Aperitif and digestif vinegars - for drinking
We designed the mouth-blown Doktorenhof vinegar tasting glass especially for this purpose. So that we can drink our aperitif and digestif vinegars. The small goblet is intended as a reminder of the importance of conscious enjoyment. Thanks to the small cone in the glass, the vinegar unfolds its inimitable aroma of sherry tones, vinous aromas, mild scents and deliberate notes of the old oak barrels.
The long stem of the glass helps you to slowly and consciously let our vinegar slide onto the tip of your tongue. Not too much! Just one or two droplets are enough to gently wet the edge of the tongue. Fragrantly wedded in your mouth you will experience the fullness and power of this elixir of sensuality.
Drinking instructions
with the original Doktorenhof vinegar glasses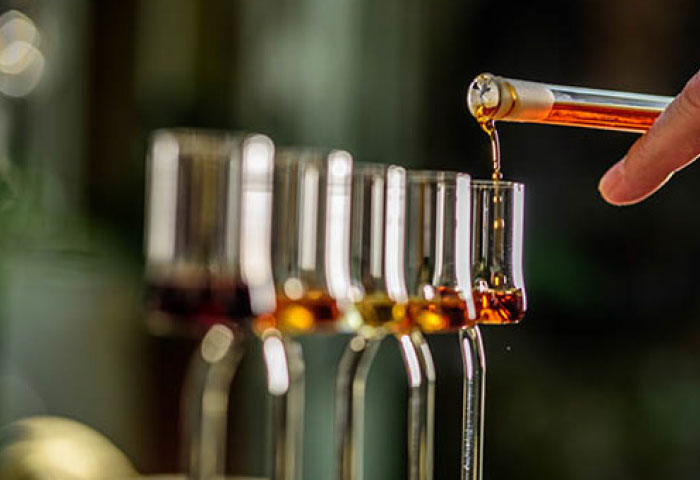 The original Doktorenhof vinegar tasting glasses are a wonderful precision made of fire and glass.
Pour the vinegar just below the point of the cone. Drink slowly in small drops. Apply the vinegar directly to the tip of the tongue and let it run slowly around the edge of the tongue to the neck of the tongue. Here our vinegar will develop its full aromas and flavors and develop a pleasant feeling of acidity and sweetness.
Celebrated as an aperitif, our creations stimulate the appetite, sensitize the taste buds and put you in the mood for the upcoming meal. As an intermediate course "Trou normand", vinegar has a stimulating effect on the stomach and creates space for the actual main course. Served as a digestif, it counteracts the feeling of fullness and underlines the easy digestibility of the food.
With our aperitif and digestif vinegars
Order now and try our elixirs of sensuality.