Manufactory, family business and tradition under one roof
We have been at home in the Palatinate for generations. And all of our forefathers have been winegrowers and farmers for a long time. We are proud of the knowledge we have received through our ancestors and are happy to pass this on to the next generations. May the Dokorenhof continue to be the basis for our efforts and actions. From generation to generation.
The oldest written mention of Venningen is 1,150 years old. Remains from the time of the Romans, Celts and Merovingians can still be found today in excavations and often also in the cultivation of the fields. The place was and is home for many generations before us and hopefully after us as well. We, as a family, have also been based here for hundreds of years.
Our existence is characterized by living and working according to the seasons and also always hoping and fearing for a good harvest so that the family can persist. For more than 20 years we have been dedicating ourselves to this very special, traditional and yet today so unusual elixir.
Cathrin and Andreas Wiedemann
"With body and soul"
In the Doktorenhof "everything is vinegar", so to speak. Our own vineyards give us the basis for the manufacture of fine vinegar sideboards, whereby the word manufacture is actually to be taken literally.
Almost 100 percent of our work is done by hand - from the natural cultivation of ripe, dense base wines to the careful expansion of the vinegars in the vinegar room, to filling, corking, binding, waxing and careful packaging in hand-blown bottles and flacons. Vinegar for vinegar is unique, from start to finish.
Georg Wiedemann
"Vinegar for vinegar is unique, from start to finish."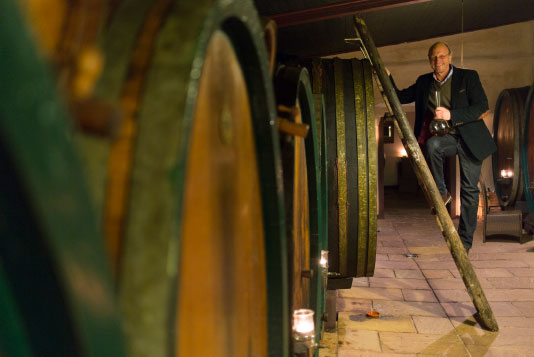 Trust Doktorenhof.
Please be sure that we still attach the greatest importance to a traditional, pure and well-tolerated product, vinegar and what we make of it. You can continue to rely on a time of sour sensuality in the Doktorenhof with a clear conscience.