Philosophy
Our ancestors were all farmers: grain, vegetables, fruit, potatoes, wine and animal husbandry have always determined their lives. Many hands have sown, worked in the fields, harvested with great effort every year - year in, year out. We want to continue to do this at the Doktorenhof.
Our grapes grow and prosper from our hands, with the benevolence of nature and the Creator, according to old guidelines and traditions that have been passed on for generations. Our Doktorenhof is a small manufacture of the "sour elixirs". Our vineyards are close to the village and we cultivate our meadows, fields and vineyards using natural working methods.
In the slowness of action, with a lot of joy and love, with the background knowledge of many generations, we try to create special and unique vinegars that are characterized by strength, abundance and grace. "Doktorenhof - home of vinegar" is a part of a fulfilling life for us as a family and for our dear helpers.
We have been based here in the village for generations. Like our ancestors, we also want to uphold the traditions of our fathers. Horses have been indispensable helpers in rural agriculture for ages. We would like to cherish and maintain this with a small contribution. Our horses help us with this.
This doesn't just have to do with lost romance. It is a very gentle contribution to care for our vineyards, which are cultivated according to natural principles. For us it is a calming way of working that gives grace and joy to an almost lost rhythm.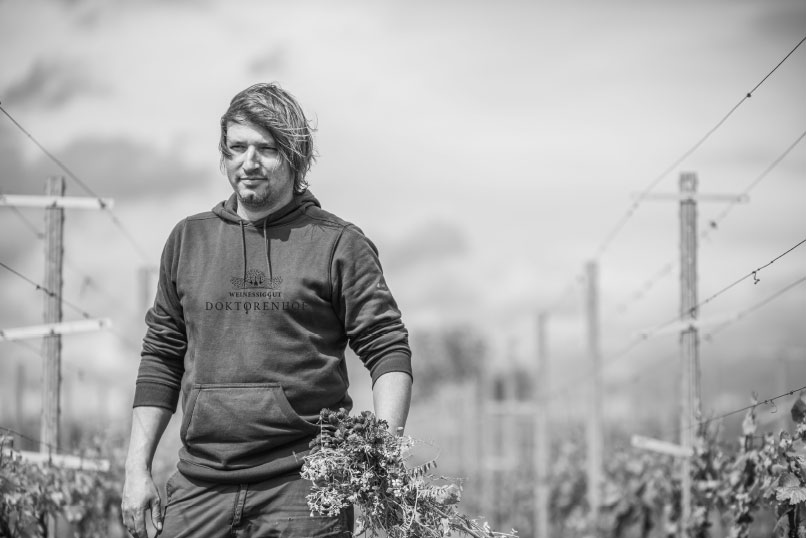 We produce our base wines and noble wines of the GlücksJäger from our own vineyards exclusively according to the guidelines of natural cultivation - without chemical sprays or pesticides. We protect our vines with purely natural substances.
We obtain our herbs, flowers, fruits and honey from selected companies. There are no aromas, preservatives or flavor included in our delicacies.
Every bottle and every glass is made, labeled, corked, tied and packed by hand for you with a lot of love, tranquility and pleasure in taste.